Eccheccazzo, and finally Riccardo Guarnieri he has made a pinch, but at least a pinch, of justice, because okay that in the revelations he made he ends up in the middle too, but honestly from too many episodes now he had become the target of every criticism and every possible teasing and imaginable and it was also time that he stopped shooting and took down with him all those who deserve to be targeted as much as he was.
That is, let us realize that due to the statements of Roberta Di Padua, Riccardo he had to swallow jokes, innuendoes and pisses about his intimate and sexual sphere, he was defined as not very fiery, he was made fun of because he suffers from insomnia, he was percolated for the type of water he drinks … but at a certain even a saint would smadonnbbe.
And, mind you, Riccardo he is not a saint because, as we have said far and wide, he is the first to be heavy, to be probably inadequate for a couple relationship, to point things out until you are exhausted and make you go down your ovaries under the soles of your shoes, the first to always worry about what comes home, what people think, what is the opinion of the public.
But at least he doesn't hide, at least he doesn't try to pass from something other than what he is. Riccardo this is it, and if I know that I follow him from home through a screen, all the more reason I imagine the ladies who decide to hang out with him in real life know it, so then coming to the studio to tease him and belittle him is already a poraccia in itself, which becomes even more a poracciata, indeed I would almost say an attitude bordering on the pathetic, if you place yourself on this level of superiority not even having a completely clear conscience.
Now, let's face it, today we have discovered the secret of Pulcinella in the sense that the fact that all sti characters of Men and women they make false papers to have an extra episode, 10 minutes more in the studio center, any shred of extra visibility, is something known even to the less awake of spectators. We know it, and there too knows it very well SacraReda who then occasionally takes one at random (possibly the poor guy in the third row who doesn't even know his mother's name, like the famous guy who was caught at the Caffè Europa in Catania and who will probably end up growing lemons in the Etnean countryside) and he punishes him just to show that, hey, they don't know anything and if they know they punish.
In short, I said, we have not discovered anything new, we all know that Men and women it's 99% business and 1% real intention of looking for a poor wretch to mate with. Since then there is Instagram, i followerZ and sponsorships Men and women it is really a real occupation, but when the junk shop of what you are willing to do to raise a few hundred more followers (ergo a few hundred euros more than the company that makes you sponsor the shakes) comes out in live tv I must say that it is always a rather satisfying show.
In fact I confess that, I don't know if it's the fault of the editing or because it was all really confused, the accusations of Riccardo they did not emerge in all their gravity, I did not even perceive the intention of the whole environment to underline them, to tell the truth (after this last statement consider 3 minutes of silence full of allusions), but essentially between a half word and the other the Guarnieri he confessed to us that a month ago things between him and Roberta they were fine but they pretended to have problems to stay and have something to tell and stay another month in the studio and increase followers and sponsorships for the In Padua. I mean, got it? In the studio they told us that Riccardo he had slept with a friend because there were clutches, instead he had slept with Roberta and they got along in love and well together (despite insomnia and personalized water, it seems).
It seems, moreover, always based on the stories of Guarnieri, that Armando Incarnato with Roberta spoke ill of the editorial staff (which then, I mean, ARE YOU FUCKING? What is it? Is it forbidden to speak ill of the editorial staff? They were not even a religious institution. Robè, Armà, I would say that even the guys in the editorial office could accidentally find themselves talking about you and taking the piss out of you, eh, so don't be anxious) but Roberta he had already warned Riccardo that he would never have confirmed this if he had brought it up in the episode, and Armando was there to reiterate 'are there written tests? are there chats? is there any evidence?'. I mean, do you understand? These really think they are the protagonists of an international intrigue where things must be said without leaving written evidence, where one must act in the dark without leaving traces of one's actions … that is, boy, I tell you with the utmost affection, but really with the greatest affection: BUT WHO SHITS YOU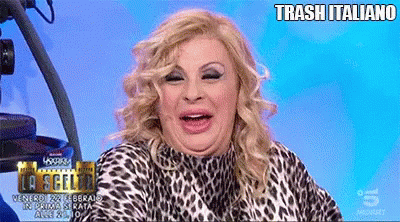 I mean, what do we care if you speak ill of the editorial staff? And what do they care about the editorial office itself! For the editorial staff it is work, if you listen, they keep you, if you don't, they sneak up on you. I don't think they give a shit about your esteem or esteem, so it is enough to unroll these kilometers of language at the address of DeFy (and Army, hello, I have it with you that in the last episodes you have repeated only 800 times as the DeFy be very high, very pure and very fine) because on the day she decides that she is annoyed with you there will be nothing that can save you.
In all of this, however, the advances said that Riccardo the same accusations made a Roberta about the strategies to stay in the studio and increase followers has also moved them to Ida Platano so tomorrow I pretend to see this part too because if it had been accidentally cropped we would be faced with the antics in the antics. And the advances also spoke of a close fight between Riccardo e Armando and I pretend to see that too, if only because, if it were censored, I should start wondering why to censor that and not to censor the slap that Roberta diede a Riccardo a few seasons ago, which launched a message so dangerous and diseducative that not only was it not to be broadcast but it would also have required a measure from the program.
Even today a piece in which Roberta he said that Riccardo he deserves a lot of pizzas in his face. Now, I'm not someone who likes to stick to words and for me many things are said but they would never be done (how many times do we happen to say 'I would kill him', yet we certainly have no homicidal tendency) but this sentence comes from those who slap him on live TV have already trimmed it and, above all, I am sure that if the exact same sentence, with the same identical precedent (precedent that probably would never was broadcast because, hey, if a man does it it's serious, if a woman does it it's trashy and makes you laugh), had it been delivered by a man to a woman, the program would be at risk of closure and the man in question would be filled with insults on and off the web.
Here, I don't expect a program like Men and women send educational messages, but we could at least undertake not to send such harmful and dangerous ones, especially in these times, especially on certain issues.
Video of the episode: Full episode – Mauro: "Sara I will do everything to make you fall in love …" – A new lady for Biagio – Roberta: "I decided to close with Riccardo" – Tina: "Riccardo but your story …" – Riccardo: "Roberta il our relationship has changed since I spoke of Armando's confidence … "- Ida:" Riccardo talking about your ex to his current girlfriend … "- Riccardo:" Between Roberta and Armando … "- Riccardo:" Roberta I was wrong to trust you Why…"