Legnanese, Varese Chronicle | June 9, 2021
Wednesday 9 June, the epidemiological situation Covid-19 presents the following data: 322 new positives; +43,271 the new swabs carried out and 785,653 those recovered / discharged.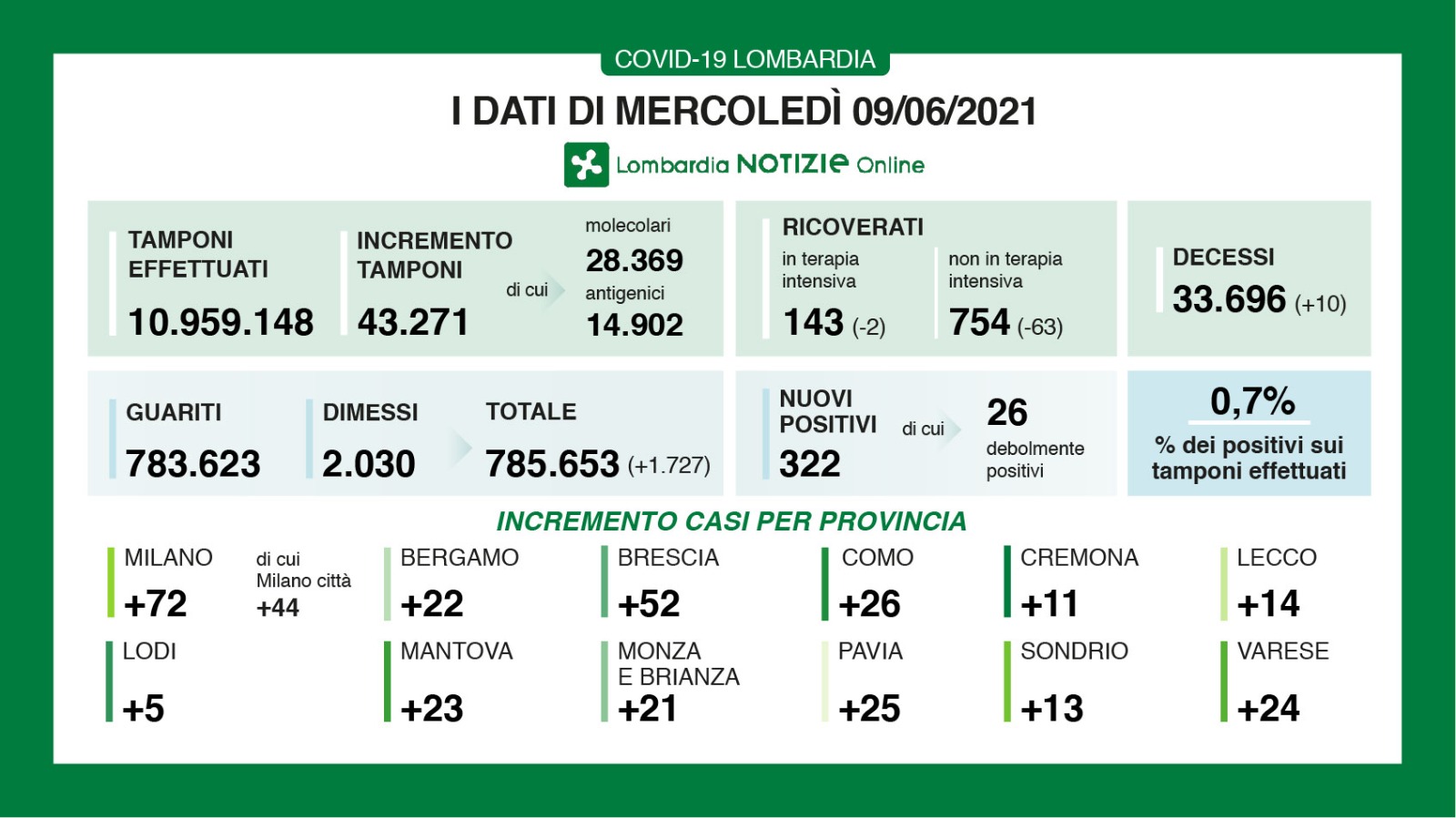 Milan – Varese-Legnano – The incidence of positive swabs still decreases, dropping to 0.7% compared to 0.8 in the previous survey. The number of people admitted to intensive care units (-2) and wards (-63) decreased. Against 43,271 swabs carried out, 322 new positives (0.7%). The healed / discharged are 1,727.
The incidence per 100,000 inhabitants in the last 7 days was 22.
In the last 24 hours there was a new entry into intensive care in Lombardy. There are now 143 people with severe respiratory insufficiency admitted to the intensive care units of regional hospitals. In a single day, the number of beds occupied by less serious patients decreased by 63 units for a total of 754. There are a total of 897 people affected by Covid in the hospitals of the Region.
The people who have been negativized in the past 24 hours are 1,727; in total, the Lombards who have recovered from Covid are 783,926. The long death trail caused by the virus, which killed another 10 people in a single day, has not yet stopped; the (official) total reached 33,696.
Today's data:
swabs carried out: 43,271 (of which 28,369 molecular and 14,902 antigenic) overall total: 10,959,148
the new positive cases: 322 (of which 26 'weakly positive')
total healed / discharged: 785,653 (+1,727), of which 2,030 discharged and 783,623 recovered
in intensive care: 143 (-2)
inpatients not in intensive care: 754 (-63)
deaths, overall total: 33,696 (+10)
The new cases by province:
Milan: 72 of which 44 in Milan city;
Bergamo: 22;
Brescia: 52;
Like: 26;
Cremona: 11;
Lecco: 14;
Lodi: 5;
Mantua: 23;
Monza and Brianza: 21;
Pavia: 25;
Sondrio: 13;
Varese: 24.
The editorial staff
Continue to follow us on our social networks, click here!
Editorial board
The editorial staff of Sempione News is made up of valid and prepared collaborators whose sole objective is to provide valid information in real time to their readers.