Covid, updated on Tuesday 8 June: +67 in Milan and +67 in Varese
Legnanese, Varese Chronicle | June 8, 2021
On Tuesday 8 June, the epidemiological situation presents the following picture. There are 291 new positives, 34,447 new swabs carried out for a total of 783,926 healed / discharged.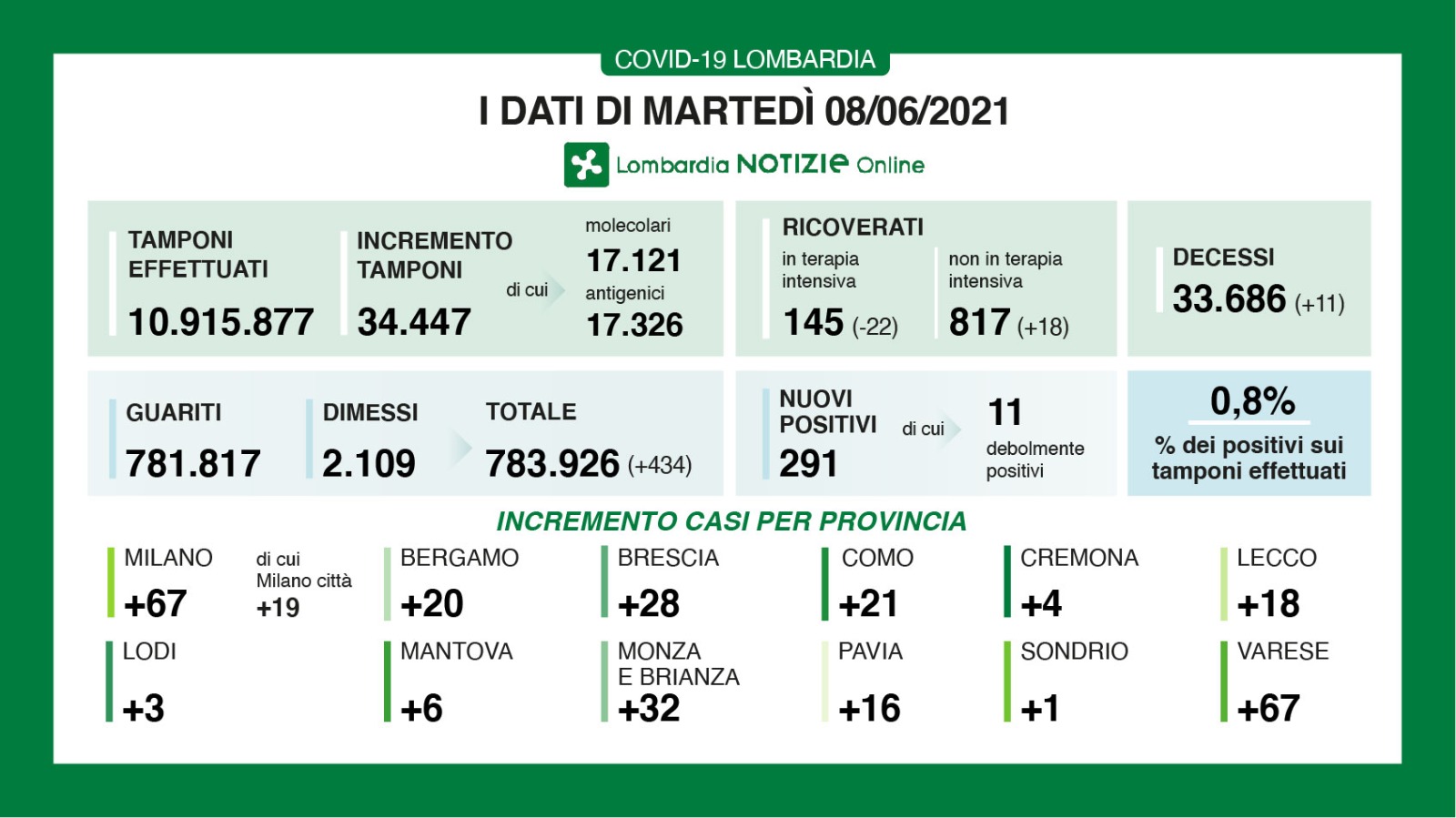 Milan – Varese – Legnano – The number of people admitted to intensive care is decreasing (-22). Compared to 34,447 swabs carried out, 291 were new positives (0.8%). The healed / discharged are 434.
In metropolitan city of Milan there were 67 new cases, in Milan city 19. The number of hospitalized in intensive care has dropped by 22 people. On the other hand, there are 18 more, for a total of 817, hospitalized in non-serious Covid wards. Finally, six victims of Covid in the last 24 hours. The total is now 33,686 since the start of the pandemic.
Gives Monday 28 June It is possible to choose the date for the administration of the booster of the anti Covid-19 vaccine in Lombardy. Read here
Today's data:
swabs carried out: 34,447 (of which 17,121 molecular and 17,326 antigenic) overall total: 10,915,877
the new positive cases: 291 (of which 11 'weakly positive')
total healed / discharged: 783,926 (+434), of which 2,109 discharged and 781,817 recovered
in intensive care: 145 (-22)
inpatients not in intensive care: 817 (+18)
deaths, overall total: 33,686 (+11)
The new cases by province:
Milan: 67 of which 19 in Milan city;
Bergamo: 20;
Brescia: 28;
Like: 21;
Cremona: 4;
Lecco: 18;
Lodi: 3;
Mantua: 6;
Monza and Brianza: 32;
Pavia: 16;
Sondrio: 1;
Varese: 67.
Editorial board
The editorial staff of Sempione News is made up of valid and prepared collaborators whose sole objective is to provide valid information in real time to their readers.