Covid. Update Thursday 3 June: +53 Milan, +13 Varese
Legnanese, Varese Chronicle | June 3, 2021
The epidemiological situation Covid-19 presents the following picture for Thursday 3 June: 14,750 new swabs carried out; 277 new positive cases and 781,208 the total of recovered / discharged.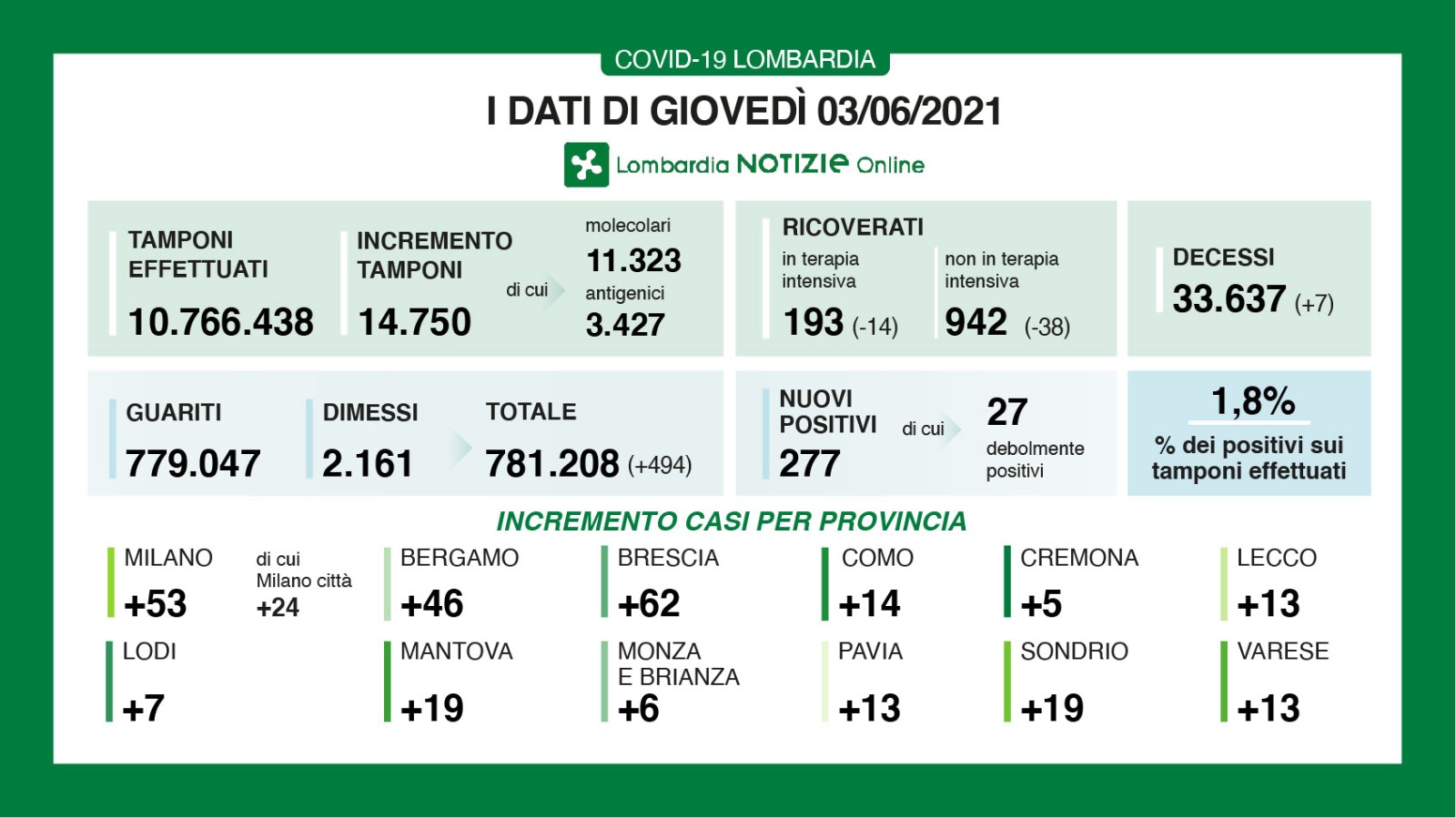 Milan – legnano – Varese – The epidemiological data of Thursday 3 June mark a continuous decline in hospitalizations in intensive care (-14). The hospitalizations in the non-intensive therapies (-38) which brings Lombardi closer to white area.
"In addition to the good news coming from the vaccination campaign, today in Lombardy we record two data that have a significant symbolic value: the number of people admitted to intensive care falls below 200, reaching 193 cases; while those in the other 'Covid-departments' are less than 1,000, precisely 942. The incidence per 100,000 inhabitants is also good, which is confirmed to be well below 50, today 31, bringing Lombardy further closer to the white zone"- Said the president of the Lombardy Region, Attilio Fontana, commenting on today's data on coronavirus in Lombardy – "Let's not let our guard down – continues Fontana – let's continue to respect the rules and look to the future with moderate optimism".
14,750 new swabs carried out; 277 new positive cases and 781,208 (+49) the total of healed / discharged.
Today's data:
swabs carried out: 14,750 (of which 11,323 molecular and 3,427 antigenic) overall total: 10,766,438
the new positive cases: 277 (of which 27 'weakly positive')
total healed / discharged: 781,208 (+494), of which 2,161 discharged and 779,047 recovered
in intensive care: 193 (-14)
inpatients not in intensive care: 942 (-38)
deaths, overall total: 33,637 (+7)
The new cases by province:
Milan: 53 of which 24 in Milan city;
Bergamo: 46;
Brescia: 62;
Like: 14;
Cremona: 5;
Lecco: 13;
Lodi: 7;
Mantua: 19;
Monza and Brianza: 6;
Pavia: 13;
Sondrio: 19;
Varese: 13.
The editorial staff
Continue to follow us on our social networks, click here!
Editorial board
The editorial staff of Sempione News is made up of valid and prepared collaborators whose sole objective is to provide valid information in real time to their readers.