Covid, updated on Thursday 29 July: 209 in Milan and 126 in Varese
Legnanese, Varese Chronicle | July 29, 2021
The daily bulletin on the Covid-19 situation in the Lombardy Region has been issued. 38,602 new swabs were carried out and 661 new positives.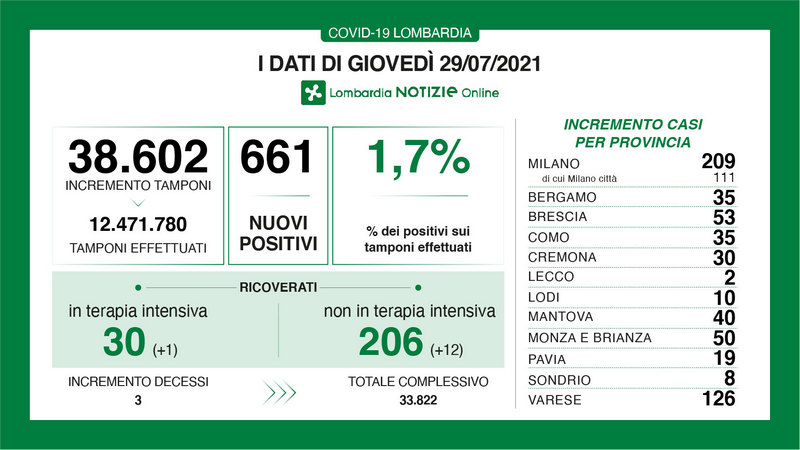 Milan – Legnano – Varese – The epidemiological data of Thursday 29 July still record an increase in the number of hospitalized, +1 in ICU and +12 not in ICU. 38,602 swabs were carried out and 661 were new positives (1.7%).
Today's data:
swabs carried out: 38,602, overall total: 12,471,780
the new positive cases: 661
in intensive care: 30 (+1)
inpatients not in intensive care: 206 (+12)
overall total deaths: 33,822 (+3)


The new cases by province:

Milan: 209 of which 111 in Milan city;
Bergamo: 35;
Brescia: 53;
Like: 35;
Cremona: 30;
Lecco: 2;
Lodi: 10;
Mantua: 40;
Monza and Brianza: 50;
Pavia: 19;
Sondrio: 8;
Varese: 126.
The Editors
Continue to follow us on our social networks, click here!
Editorial board
The editorial staff of Sempione News is made up of valid and prepared collaborators whose sole objective is to provide valid information in real time to their readers.