A roguelike with lots of style and some good ideas: after a long Early Access, the final version of Curse of the Dead Gods arrives
Until a few years ago, roguelikes represented a fresh and original market niche, to the point of attracting millions of players and thus saturating the genre in a flash. For some time now, in fact, it is not uncommon to see more or less successful clones of the most important titles appear, with some sparks ready to refresh this type of product. Let's talk for example of the most recent Hades that we all acclaimed just a few months ago, at Monster Train, which in its DNA assimilated by Slay the Spire, blossomed with new ideas putting us on the side of the bad guys and the recent DLC of Dead Cells, ready to elevate further the Motion Twin masterpiece.
With so much variety, being able to create something truly original has become extremely difficult but Passtech Games did not want to give up, tweaking the early access of Curse of the Dead Gods to propose today a title determined to have its say in this scope. In our previous test the game had already shown all its peculiarities, but we were waiting for the launch to be able to admire it in due completeness. Today, after more than a year of Early Access, we have finally reached the long-awaited final verdict in Curse of the Dead Gods review!
Many weapons, few enemies to use them on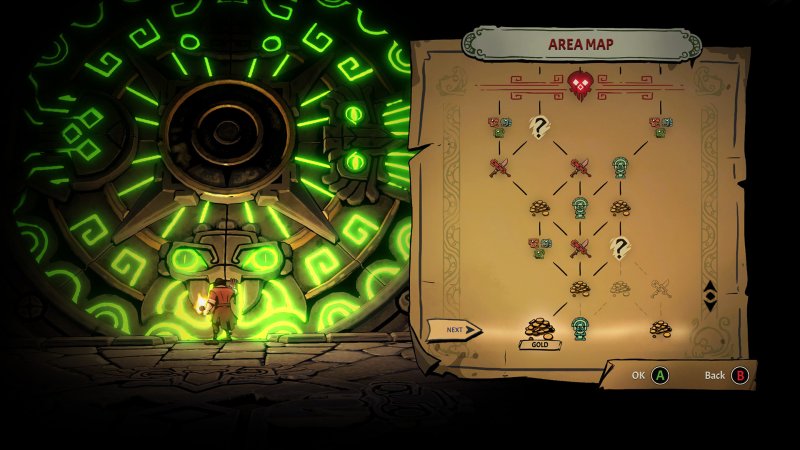 The selection of weapons is made initially at the entrance of each new dungeon and then, by deciding which path to follow in a branch scheme identical to that seen in Slay the Spyre, you can stumble upon new weapons, upgrades for the same, relics or other treasures of value, so as to make you more lethal and maintain an adequate level of challenge. The variety of weapons is more than good and includes a broad spectrum of everything you would expect from a fantasy title like this, starting with the most common swords and maces up to muskets, claws and spears extremely in line with the Aztec theme. If the weapons satisfy, i enemies instead, both for variety and design, they leave something to be desired, disappointing our imagination and letting a glimpse of class touches only during clashes with bosses. In this regard, it is right to point out how the guardians of the various floors of the pyramid exploit repeated attack patterns, almost never changing rhythm or strategy and quickly becoming easy to read and to break down.
While the difficulty curve it suddenly lowers with the growth of the player's experience, to keep the interest alive the curse mechanics intervenes, this really original and well thought out. Basically every door you pass through will increase a dedicated bar, the completion of which will correspond to a permanent curse for the whole run: you get to get five curses at once and your life will start to drop every second, requiring a truly superhuman effort to bring the adventure is over. Curse of the Dead Gods therefore contains a meta game, forcing the player to make careful choices at the altars of rewards so as not to accumulate excessive evil, to sacrifice pieces of equipment to try to appease the wrath of the gods and also to be careful of some attacks that, instead of damaging your health, will clearly aim to speed up the filling of this cursed stat. Within this ecosystem full of things to remember and decisions to make, the player always has the impression of being in control and every choice is made wisely by outlining a clear strategy. A system that works extremely well and that leaves each game over that insatiable desire to try their hand at another run and then another, until you get to defeat all 10 bosses of the pyramid, with sessions ranging from 15 to 50 minutes or more of play.
In the progression, obviously, a pinch of repetitiveness will come overwhelmingly, inevitable for games of this genre, but perhaps a bit too marked this time, with a procedural construction of the levels not sufficiently varied to avoid unpleasant frequent déjà-vu effects: the most bulk of a production to be kept in strict consideration.
PRO
Sublime style and atmosphere
Good variety of weapons and bonuses to unlock
Interesting new mechanics for the genre
VERSUS
Little variety of enemies and environments
Mild challenge for the more experienced
Amount of content not at the top
---
Important Alert
Dear reader.
I hope you are in health and well.
I offer you important instructions regarding this article
We only want readers to access information quickly and easily using other multilingual content, rather than information only available in a specific language.
We always respect the copyright of the author's content and always include
the original link of the Source Article , and if the author does not agree, leave the report below the article, the article will be edited or deleted at the author's request. Thank you so much! Warm greetings!
---
.
Source link
https://multiplayer.it/recensioni/curse-of-the-dead-gods-recensione.html