Very beautifull Grand Prix on the Barcelona track, seventh act of World Championship 2021. To take the victory is Miguel Oliveira in KTM, before fourth rare (2°) e Zarco (3rd). However the centaur of the Yamaha was penalized by 3 seconds for having cut the first corner following an error and finds himself off the podium, among other things with the thrill because, two laps from the end, his suit has completely opened leaving him bare-chested, a very dangerous situation in the event of a slip. Jack MIller in Ducati therefore he ranks 3rd.
For the Portuguese Oliveira this is the 4th podium in the top-class, that is the 3 victories (today after Styria e Portugal 2020) and 2nd place at Mugello a week ago. Regarding Zarco, this is the 11th podium in the top-class (4th this year) equals Gary Hocking, Andrea Iannone, Teuvo Lansivuoril, Franco uncini, Remo Venturi in 50th place of all time (top-class).
Therefore fourth rare he is relegated to 4th place due to the 3 "penalty, 5th Joan Mir in Suzuki, fighting for the podium but literally stripped of paint by the power of the Desmomotore Ducati of Zarco e Miller. 6th a fair one Maverick Vinales, always too anonymous to be really fighting. 7th the other Ducatista Pecco Bagnaia, which despite the power of the engine is not the protagonist of a great race. 8th Binder, then Franco Morbidelli in Petronas (9°) e Bastianini to close the Top-10.
Both on the ground Honda officers of Espargarò e Marquez, also falls Valentino Rossi in the end at turn 10.
Currently fourth rare always leader of the Global with 118 points, to +17 up Zarco. At 28 points Miller, a 30 Pecco Bagnaia.
The ranking of the top 10 today at the finish:
1 M. OLIVEIRA 40:21.749
2 J. ZARCO      +0.175
3 J. MILLER.    +1.990
4 F. QUARTARARO +1.815 (+ 3 "penalty)
5 J. MIR. +5,325
6 M. VIÑALES +6.281
7 F. BAGNAIA +8.175
8 B. BINDER +8,378
9 F. MORBIDELLI +15.652
10 E. BASTIANINI +19.297
OMNISPORT | 06-06-2021 13:50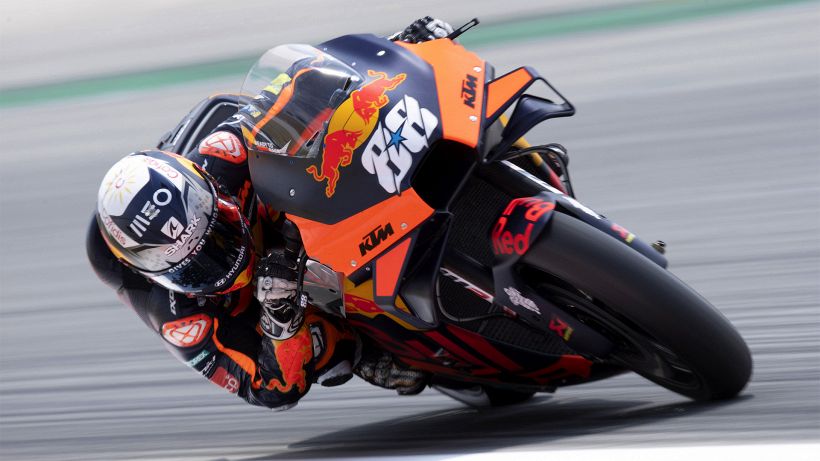 Fonte: Getty Images
Motogp Oliveira wins Barcelona Quartararo danger Rossi falls