Gossip
The Argentine model shows herself all natural on social media: childbirth is getting closer and closer
Published on June 5, 2021
Belen Rodriguez, pregnancy is very sweet, between relaxation, pampering and love. At her side there is always, like a shadow, Antonino Spinlabese, the young hair stylist eleven years younger than her who stole her heart last summer, after her marriage with Stefano was wrecked for the second time. De Martino. In the past few hours, the Argentine model has returned to show off her baby bump on Instagram, delivering a sugary photograph to her endless fanbase.
In this case, 'Belu' has portrayed herself in dim light, all natural, as her mother did and in profile, showing off her belly and informing that the sweet expectation has arrived at 33rd week. Which means the birth of Luna Marie (this is the name chosen by her and Antonino for the fruit of love) approaches, becoming more and more imminent. As soon as the South American posted the photograph she was joined by a myriad of comments.
Many users who appreciated the snapshot, considering it a hymn to maternity. Someone even joked about the baby bump. "When I don't go to the bathroom ", wrote one user. "This joke is no longer valid. I have a watermelon instead of a belly ", Rodriguez responded nicely. In fact, her baby bump is now well pronounced.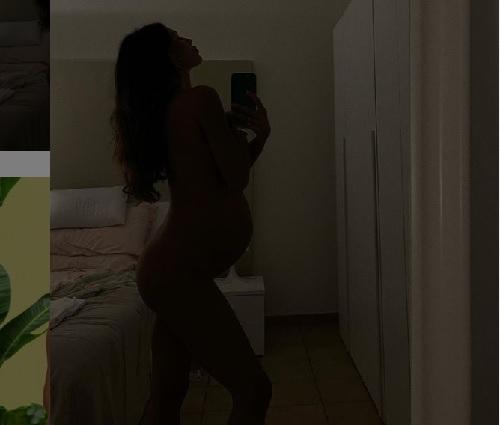 Belen Rodriguez, the serenity found with Antonino after the end of the love story with Stefano De Martino
Not even a year ago, Belen and Stefano said goodbye, leaving everyone speechless. The root causes of the separation remain unknown to date, as the parties concerned preferred to keep absolute confidentiality and speaking only generically of misunderstandings and failings. The fact is that Rodriguez, thanks to the meeting with Antonino, quickly found serenity and stability. And now she is ready to become a mother for the second time, giving a little brother to Santiago, the eldest son had by the dancer from Campania who, unlike his ex-partner, is currently single. Repeatedly chatted by gossip for real and / or alleged flirtations, for the moment De Martino is alone. The suitors are not lacking, but after the blow of the break with Belen he wants to go with lead feet.