When it comes to serving your interests, Rosalie Engel (Natalie Alison) does not look at anything or anyone in the face, even if it is about harming the people closest to her. We will have confirmation of this once again in the next ones Italian episodes of Love storm, when the beautiful blonde will perform yet another brilliant intrigue … So here's what will happen in the episodes of storm of Love soon aired in Italy on Network 4!
---
Read also: Storm of love, Italian previews: Selina falls in love with Christoph!
---
Love storm, Italian anticipations: André leaves for Holland with Leentje
Since when Rosalie she suddenly returned to the Fürstenhof and moved from Michael (Erich Altenkopf) e André (Joachim Lätsch) were sparks. From the very beginning, in fact, the woman has put a spoke in the wheels of Konopka, even going so far as to hypnotize him in order to force him to involve her in his affairs.
Despite the doctor's attempts to mediate, the situation has not only not improved with the passage of time, but has definitely worsened. Following yet another quarrel, in fact, André committed a rash action that cost him dearly: he hit his head violently while trying to cross a river, completely losing his memory.
Helped by a beautiful Dutch tourist named Leentje (Antje Mairich), the chef decided he didn't want to try to remember who he is, preferring to leave everything behind and start a new life with his new flame in the Netherlands. Will it be goodbye?
Spoiler Storm of love, Italian news: Werner and Michael are looking for André
The sudden disappearance of André understandably caused no small concern at the Fürstenhof, especially in Werner (Dirk Galuba). The searches of the elderly hotelier, however, did not have the desired outcome: there is no trace of André!
Just when Saalfeld was beginning to fear the worst, however, Rosalie made an unexpected discovery: a photo of André smiling with a woman. At that point Engel had no more doubts: the chef fell in love and left of his own free will. Michael and Werner, however, will not be satisfied …
Growing worried, the two will hire a detective to track down their loved one and refuse to make any decisions that could harm the cook in any way. By doing so, however, they will involuntarily step on Rosalie's toes …
Anticipations Love storm, German episodes: Rosalie fakes a postcard from André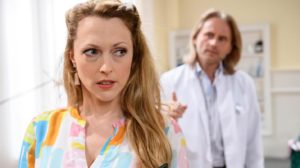 Engel will in fact urgently need the € 40,000 earned from winning the quiz competition, but Michael will refuse to give her the money, as it was intended for the new kitchen. of André. A "no" that the woman will not take philosophically …
Storm of love: all our news also on Instagram (entering from HERE)
Determined to put an end to the chef's research once and for all and the hope that the latter can return to the Fürstenhof, Rosalie will therefore think well of resorting to a real scam: pretending to be André, he will send Werner a postcard from Holland, assuring him that he is happy and that he has no intention of returning to Bichlheim.
At that point Saalfeld and Niederbühl will stop the research and the doctor will agree to hand over the 40,000 euros to Rosalie. Has the woman got away with it yet again? For now we can tell you that sooner or later the truth is destined to come out … To stay updated on this topic, follow us on Google News by going to this page and clicking the button with the "star"
Don't miss it: become a fan of ours Facebook page on Storm of love, of our account Instagram and ours Telegram channel to be always updated on all the previews!
We remind you that all the news on the German and Italian advances of Tempesta d'amore I'M HERE. The plots of the episodes, on the other hand, I'M HERE.