In recent months, there have been a myriad of leaks and speculations regarding the upcoming iPhone 13. This new series of smartphones from Apple will be launched in September. However, speculation and renderings continue to circulate. While there have been many renderings and even mockups of models in this series, other new concepts are still leaking to the web.
iPhone 13: a render that confirms the rumors
The latest of these renders comes from an Indian YouTuber (@Waqar Khan) but these renders are not very different from the previous ones. The most significant difference between this device and the iPhone 12 is probably the arrangement of the notch and rear camera. The notch on these 3D photos is obviously smaller than that of the current device. Also, the rear camera has a different diagonal alignment from the sensor alignment of the iPhone 12.
The renders also reveal that the new model will have at least six color options. From the images we can see the colors light purple, red, dark blue, orange, warm white and black.
From the speculations so far, the iPhone 13 may not have significant updates. The appearance may be slightly different and, of course, the chip will change. There may also be a camera sensor upgrade as well Apple could launch a 1TB storage version. Other than these, we don't expect any other substantial changes on the upcoming flagship series.
The iPhone 13 will basically continue the design of the iPhone 12 series. It will come with a notched display and a flat middle frame design. This smartphone will come with a screen Samsung LTPO which will support 120Hz adaptive refresh rate.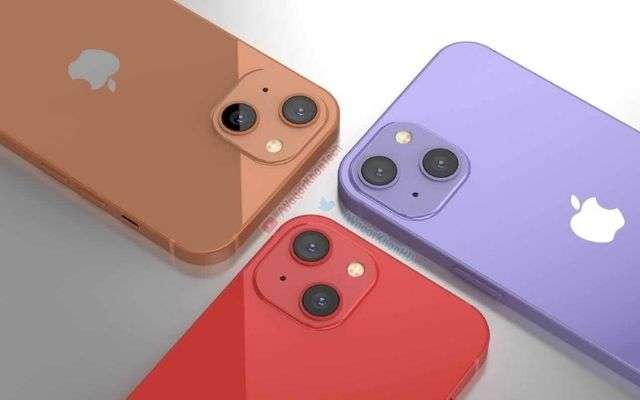 The refresh rate will be intelligently adjusted to suit the scenario. For example, when a user opens a game, the display's refresh rate will automatically set to 120Hz. However, if the user is just browsing through the messages, the refresh rate will be spread over 60Hz. In this way, the display will always be efficient and will save more energy.
Interestingly, this it will be the first time an iPhone will use a refresh rate above 60Hz. Its latest iPhone 12 series comes with a maximum refresh rate of 60Hz. Additionally, the new models will come with Apple's new A15 Bionic processor. The chip will also incorporate the latest baseband Snapdragon. Plus, it will come with the latest Wi-Fi 6E technology. Optimizations in the camera department will also improve.
Source:YouTuber Waqar Khan
Apple
Smartphone