Is it really over between Manuel Bortuzzo and Lulù Selassiè? In the past few hours, Big Brother Vip has received a new twist between the two because you know: in the most spied-on house in Italy, nothing is as it seems
Manuel Bortuzzo, during his journey in the most spied house in Italy, he made himself known not only for his difficult past, but also for his acquaintance with Lulu Selassiè.
Knowledge that, let's face it, was certainly not among the most peaceful and serene, considering that the two do nothing but to interrupt all and get closer. Or rather: it is the competitor of the GF Vip who approaches the Princess and then chooses to step away, exhausted by his attitudes, only to come back close to it.
During the last appointments with Alfonso Signorini, Manuel had been quite clear after having lost my temper, giving yet another two of spades to the young Selassiè, reiterating that he wants his space in this context and that he is not looking for a girlfriend.
In the past few hours though Manuel Bortuzzo amazed Lulù Selassiè at GF Vip serving, not only to her but also to all the public that follows with the utmost attention from home, yet another twist.
YOU MAY ALSO BE INTERESTED IN: GF Vip, the former gieffina has no doubts: Soleil has ended up in a trap
Lulù Selassiè amazed by Manuel Bortuzzo: new rapprochement with GF Vip
Manuel Bortuzzo on two occasions he approached Lulu Selassiè after the last live broadcast of Big Brother Vip. The first at the table, where he chose to sit next to her and behave in a sweet way, also passing her the various dishes that she had chosen to eat during the meal, but so far nothing strange. It could be simple education and kindness and nothing more.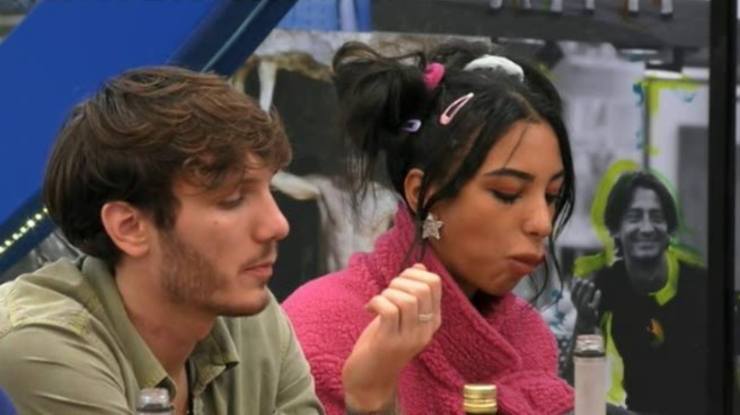 Shortly after the episode, however, the swimmer joined her in bed and started pampering her and making future plans on what to do, the next day in the most spied-on house in Italy, in her company.
YOU MAY ALSO BE INTERESTED IN: The collapse of Miriana Trevisan: tears and despair at Big Brother Vip
Manuel Bortuzzo did you change your mind about your relationship with Princess Lulu again? Network users are clearly divided on this yet another backfire. There are those who affirm and maintain that the two have a complicated relationship and that the context in which they find themselves is not helping them at all.
The more mischievous, however, suspect that the swimmer is using the Selassiè to have greater visibility inside the Big Brother Vip. In that, except for the surprises he receives quite frequently, he would not be talked about except on the basis of ups and downs with Lulu.
Per Manuel and Lulù Will this be the right time?