Yesterday the singer-songwriter Paolo Pietrangeli passed away, the famous author of 'Contessa'. And immediately many have done their utmost in messages from grief and sadness for this loss.
Read also -> Paolo Pietrangeli died, farewell to the father of 'Contessa': he was 76 years old
One person in particular has decided to entrust to social networks his greeting to the singer-songwriter, Maria De Filippi, who wrote his heartfelt greeting via the Instagram page 'Witty TV', followed by the condolences of many other people who commented with messages of closeness.
De Filippi's message (who with Pietrangeli – director version – had the opportunity to work for various programs) is moving and heartfelt: "Paolo Pietrangeli is a colleague, a friend, a poet, a character with a thousand unexpected character angles".
Thus begins the post signed by Maria De Filippi and then continues: "Today he left in his own way, without surrendering to a life that would have liked him sober, careful and prudent or rather the opposite of what he would have wanted from life. Losing him is very sad and dramatic".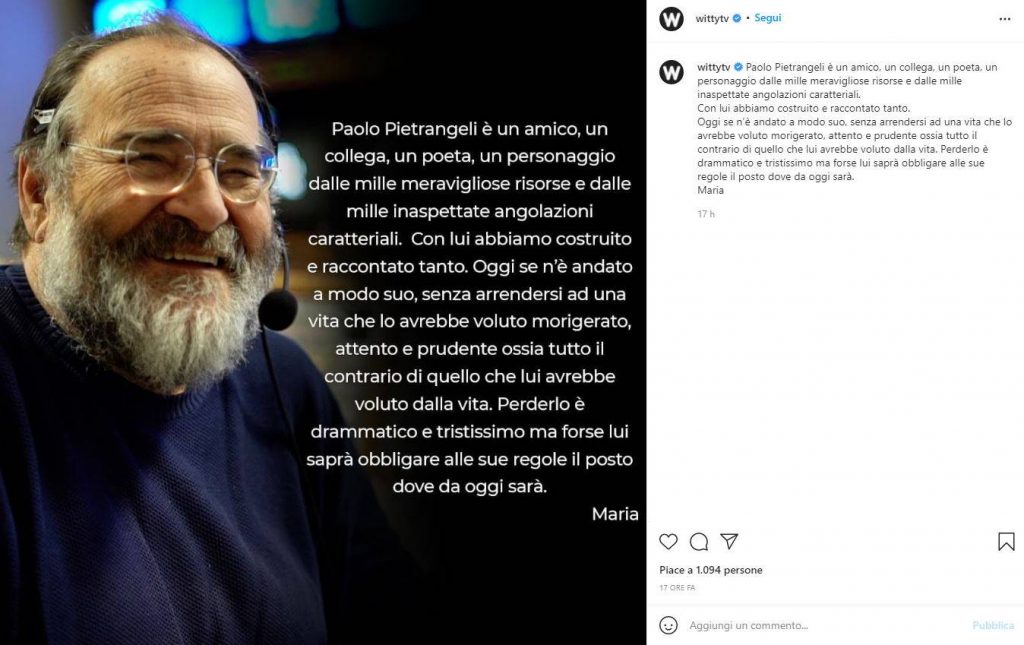 The condolences of Maurizio Costanzo: "A piece of life goes away"
As previously mentioned, for De Filippi he had been kinggista also of some of his programs in particular of 'Friends' and 'There is mail for you', but also of her husband's broadcast, the famous 'Maurizio Costanzo Show'.
For this reason, Maria De Filippi's condolences are so heartfelt and heartfelt.
Maurizio Costanzo himself communicated his condolences in agreement with his wife: "A piece of life goes away. I will remain with the sly and witty look and that sense of tranquility that he gave me when he was directing ".
Costanzo then underlined how he did not think that this loss could have caused him so much regret: "It is also a human loss, proper to the person".
Maurizio Costanzo had worked with Pietrangeli not only for his show, but also for a fiction called 'Orazio'.
Later, the director of the MCS was replaced by a person very close to him, the first cameraman – Valentino Tocco.