Did Belen Rodriguez and Antonino Spinalbese break up? Jeremias, her brother, has finally broken the silence on social media.
Belen Rodriguez is once again at the center of the gossip. For some time, in fact, there has been rumors of a crisis between her and her new partner, Antonino Spinalbese, with whom he had a daughter Luna Marie.
The two, at least for the moment, have never spoken openly about what is happening in their private life and this unfortunately has caused the birth of numerous gossip about them. Network users are curious to know the truth and during the course of these weeks there has certainly been no lack of criticism or attacks on the beautiful Argentine model, as she is accused, in a completely unfair and disrespectful to constantly change their partner and there are even those who insinuate that he used Spinalbese, making fun of him. But what is the truth?
To confirm that unfortunately there is no good blood between them, it would seem to think about it Jeremias Rodriguez who broke the silence on social media.
YOU MAY ALSO BE INTERESTED IN: Belen and Antonino, the twist that no one expected: the words of Spinalbese
Jeremias Rodriguez breaks the silence on Belen and Antonino? Her words
Jeremias Rodriguez, it should be noted, that he did not mention names and surnames, but it is not the first time that he has made an intervention very similar to this on social media. Even when her sister decided to end her relationship with Stefano De Martino, there were similar comments. For this reason, network users are convinced that his words are addressed to Antonino Spinalbese, assuming that the relationship between him and Belen has unfortunately come to an end after only one year of love.
YOU MAY ALSO BE INTERESTED IN: Belen Rodríguez, the twist that no one expected
"People are not what they say, they are what they do" wrote the Belen's brother on Instagram, as you can see from the shot that we have decided to incorporate at the bottom of this article. Nothing more and nothing less. A few simple words that go straight to the point, suggesting that on the other side there were only words and few facts, but will it really be like this or did Jeremias want to write those words without wanting to comment on his sister's relationship?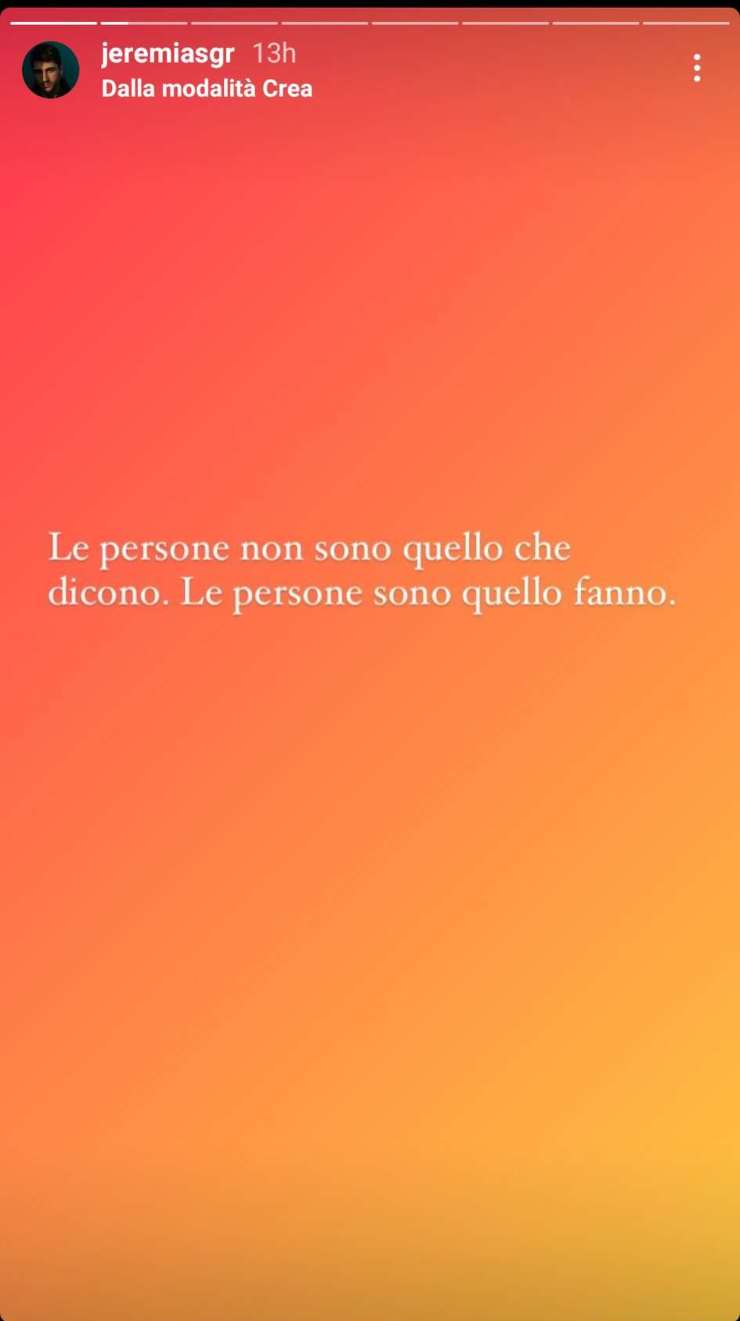 At least for the moment there is no certainty about it, but net users are more curious than ever to know the truth, but the beautiful Argentine model at least for the moment has no intention of talking about her private life but surely with the passage of time she will make more clarity about it, as she has always done during the course of her career.